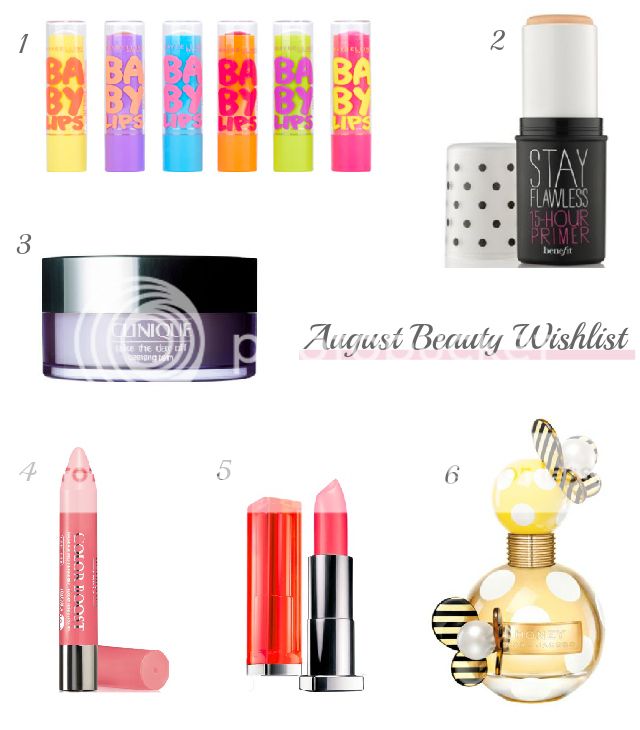 1) Maybelline Baby Lips Lip Balm – I don't know what's attracted me more to these lip balms, the super cute packaging or the huge hype that has surrounded them! These are meant to be incredibly hydrating and nourishing on the lips and I've only heard good things about them. I think it's definitely worth a try at just £2.99 each.
2) Benefit Stay Flawless 15 Hour Primer – I haven't tried many primers but I'd like to try this one by Benefit as it sounds amazing. It's meant to act as a makeup magnet and keep your makeup in place for 15 hours! I also love the fact that it's in stick form as the product would be really easy to apply.
3) Clinique Take The Day Off Cleansing Balm – This cleansing balm is meant to be excellent at removing makeup and leaves your skin feeling smooth, soft and thoroughly cleansed. I've had my eye on this for a while now so I definitely want to try it soon.
4) Bourjois Paris Colour Boost Lip Crayon in "Peach On The Beach" – These Bourjois lip crayons are meant to be great dupes for the Clinique chubby sticks, but at £7.99, they are a fraction of the price! I'd love to try the shade "Peach On The Beach," which is a gorgeous peachy pink.
5) Maybelline Colour Sensational Vivid Lipstick in "Shocking Coral" – These lipsticks are highly pigmented and are meant to be very long lasting too. I've seen swatches of "Shocking Coral," and would love to try it! It's a very bright coral shade that is perfect to wear this season.
6) Marc Jacobs Honey Perfume – How pretty is the design of this perfume?! It's definitely something I'd love to have on my dressing table! It has a floral scent with notes of pear, fruity punch, juicy mandarin, orange blossom, peach nectar, honeysuckle, honey, golden vanilla and smooth woods.
Have you tried any of the above products? What's on your wishlist?